We have been in the construction business for over 15 years and are a renowned manufacturer and distributor of premium quality light gauge steel frames, prefabricated buildings, mezzanine floors and other construction solutions. We started out in Coimbatore and now operate all over Tamil Nadu as the best building materials supplier.
BUILD TECH SOLUTIONS ENTERPRISES
OUR VISION
Prosperity to the Customers through our Innovation.
OUR MISSION
We at Build Tech Solutions steel buildings pledge to provide prefab and customized steel buildings with best aesthetics at a most affordable cost within the stipulated time to meet the functional requirements .Apart from we deal with Aerocon ready-made walls and Access Flooring , we do mezzanine Floor for domestic and industrial purpose
We achieve this by a dedicated team of engineers with the cutting edge manufacturing technology, green building materials and latest design capabilities.
Achieve greater heights in Building Nation by dedicated service to prospering Customers and meeting Quality Standards to be among the Top 10 Conglomerate's in Infrastructure Business with Innovation and Technology.
We address each and every concern of our valuable customers, thereby creating a strong partnership and mutual trust. We take pride in playing a vital role in creating a strong nation by providing strong buildings.
ABOUT BUILD TECH SOLUTIONS – Building Materials Supplier
BUILD TECH SOLUTIONS FOR YOUR PROJECTS,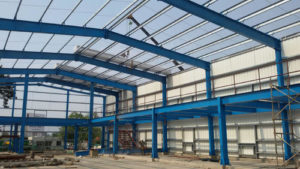 You should choose to work with Build Tech Solutions because: We provide a total turnkey solution to our customers, including both interior and civil works. We are a team of professional designers and contractors, who have been in the construction business for more than 15 years. We do projects based on engineering design, unlike the local contractors who use the thumb-rule method for constructing buildings.
We deliver accurate structural designs at low-cost (example, by using the minimal but exact amount of steel), without compromising the quality and durability of the buildings. Our costs are fixed at the beginning of the project and will not vary through the course of the project. Furthermore, our company takes extreme pride in working closely with our clients to thoroughly understand their current and future requirements and suggest products based on that.
We design, model the product in a software package, get feedback on the model, make any revisions to the original design and then implement the design within the agreed-upon time and budget, to the full-satisfaction of the customer.
Our initial consultation on assessment of your requirements and advice on possible solutions is completely free of cost. So, come talk to one of our agents today to see how best we can help you with your construction needs.
Mainstay :
Build Tech Solutions a pioneering company in the field of Prefabricated Structural Engineering was founded in the year 2005 by two Enterprising Engineers of Mechanical and Civil disciplines. Over the years they have obtain gained rich experience in pursuing shadow their dreams to be among India's leading Business Entrepreneurs and accomplish benchmarked Global Innovative construction materials/structures for their Projects.
Core Competence :
Build Tech Solutions , a pioneering Company in the field of Structural Engineering have executed a number of complex projects, in conjunction with the requirements of our esteemed clients and the professional demands of pre-eminent Architects and many other leading Architects. Over the years though our commitment and on going Research and Development we have been able to execute our projects with a clear span of over 180 feet.

We have also under-taken construction of Innovative Structures for Industries, Institutions, Individual Home's and Commercial building's, have completed the same without escalation in costs and to the full satisfaction of our Customers.

Another area of our core strength is an effective Enterprise Resource Planning system for Marketing, Design, Quality Control, Manufacturing, Logistics and Project Management and through this system we strive for successful completion of the project within the stipulated schedule time frame.

With our comprehensive awareness of prefab structural knowledge we have a wide array of Structural Product's to suit varied customer needs via Space Frame Structure's, Prefabricated Structures etcetera.

Also an area which demands our continued focus is Functional Aesthetics especially to Our clients who want something new in their prefab structures. Every project completed by Build Tech Solutions is Unique in its own criterion. Most important Of Customer Satisfaction. We are the best Modern construction material suppliers in India.
QUALITY POLICY
We ensure the stability and quality of a building by adhering to the stringent building code and material specifications that exceed the requirement. Designed and detailed with the latest software and also by adopting the best manufacturing.
BENEFITS AND REWARDS
In everything Build Tech Solutions we do as a company, we consistently delivers on commitments uphold that our employees are our strong and greatest asset. We can provided the splendid best if we have the best that's why we're honestly and truly committed to our people. Our Build Tech Solutions employee's are very talented at what they do, but they're also very talented at working together, with our clients and sub contractors.