Raised Access Flooring System provides an elevated structural floor above a solid substrate to create a separation from the floor for the passage of mechanical and electrical services. Raised floors are widely used in modern office buildings and in specialized areas such as healthcare, IT data centers and computer rooms, airports, railways, banks and safety lockers where there is a requirement to route mechanical services and cables, wiring, and electrical supply. The interplanar spacing varies based on the requirement, application, and ease of operation. Additional structural support and lighting are provided when a floor raise is substantial for periodic maintenance & servicing.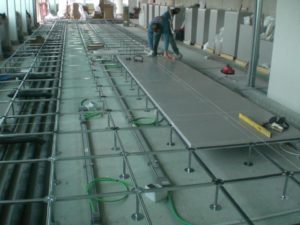 Construction Of Raised Access Flooring System
The construction of raised flooring consists of a gridded metal framework structures called pedestals to maintain clearance from floor level.These frameworks are supported by panels that provide support for removable /openable floor panels, Size of opening vary based on application and site condition. The height of the legs/pedestals is dictated by the volume of cables and other services provided.The panels are normally made of particleboard while some tiles have hollow cores. When using a panel with a cement top surface the panels are sometimes left bare and sealed or stained and sealed to create a tile appearance. These applications are used most often in an office area, industries, and commercial centers.
Advantage of using raised access flooring system
These ensure minimal energy wastage
Protection from Fire
Protection from electric shock hazards
Provides elegant appearance and
Ease of maintenance.
Editor Rating

Rated 5 stars

Spectacular
---
Editor Rating

Reviewed by:

Published on:

Last modified:
---