Mezzanine Floors is, an intermediate floor in a building which is partly open to the double-height ceilinged floor below, or which does not extend over the whole floor space of the building. Your hunt for top mezzanine floor manufacturer ends here.
Mezzanine is widely used in industries for storing the material. Mezzanine is made by the fabricated structure of mild steel sections. The Load capacity can be designed based on the client's requirements. This is ideal for offices as well as storage and can be tailor designed.
The mezzanine floor is built with plywood and steel. Better stature is the unique feature of the mezzanine floor. The remarkable part of the mezzanine floor is that the height couldbe migrated to meet client requirements. Metal storage system mezzanines are popular and easy to design based on site requirement. Metal Impacts has encountered in planning and boosts your storage room. Mezzanines could be designed over existing supplies and work zones. Cost reduction and space utilization are the major advantages of Mezzanines.
Features of the mezzanine floors:
 Introducing modern rack upheld mezzanine frameworks
 It maximizes storage room space by varying the height.
 Enhancing space usage.
Mezzanine Floor Manufacturers
We a leading mezzanine floor contractors/manufacturer provide most suitable solution based on site condition within limited space.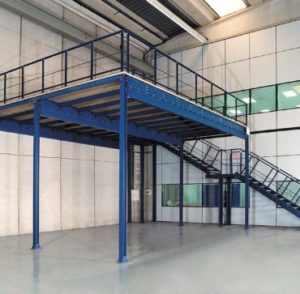 The modular Mezzanine floor is a steel / Metal platform that is raised from the floor level but below ceiling height. It is an intermediate floor between the two main consecutive floors. The material used and the design requirement is the deciding factor for the cost. They are best suited for public buildings. They bear the reasonable amount of weight. It's ideal for places where a large amount of space generation is required. .Mezzanine provide the best solution for effective utilization of space at optimal cost.
These Mezzanine floors are made with nuts and bolts., They are very stable and have strong structural integrity. The design and size can be manipulated according to the site condition and requirement, where it is to be installed. Elevators or raised walkways can be added wherever the requirement is needed . The mezzanine floor is cost-effective and helps to improve productivity by extracting out the maximum from a limited space. Additional space is created within existing space.
Mezzanine Floors – Using Aerocon, Everest, V Panels, Decking sheet Flooring, Fibre Cement Boards Flooring
Aerocon Everest panels can be used for partition along with the steel structures.Based on the site conditions these panels can be designed with proper load bearing.
Towards flooring of the mezzanine floor, fiber cement boards can be used with proper reinforcement and bottom stability.The environmental condition should be dry and free from moisture.
Editor Rating

Rated 5 stars

Spectacular
---
Editor Rating

Reviewed by:

Published on:

Last modified:
---